Barbara Wright
(Jacqueline Hill)
---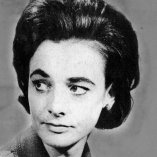 Barbara is an attractive and intelligent teacher who worked at Coal Hill School in London. Despite her ability to reason sensibly, however, she is easily scared by the unknown and can behave irrationally. She is likely to become emotional when trapped or imprisoned and at times such as this she turns for support to her colleague and close friend Ian Chesterton; she can become distressed if he is not there to comfort her.
Although Barbara is a vulnerable character, she does have inner strength which can manifest itself in situaions where she might ordinarily be expected to break. She will support and comfort other women who are scared or upset and restrain her own fears while doing so. And she will become assertive if she has to champion a cause she believes in, or at least believes is the right one in the circumstances. She is on the verge of becoming the liberated woman that Earth society in the 1960's brought forward.
She has brown, bouffant, straight hair which comes down to her neck, a sharp, oval face and green eyes. Barbara typically dresses formally in a matching jacket and knee length skirt with either a blouse or polo-neck top. Like Ian Chesterton, she enjoys dressing up in period clothing, although she tends more to appreciate its fineness or the quality of jewellry.
The Doctor often infuriates Barbara, although she tends to restrain her feelings: it is Ian who often speaks for both of them. She is in love with Ian, but neither person seems to realize the truth, making it a very English relationship. Barbara's reactions and decisions will be strongly colored if Ian is affected by them.