Polly
(Anneke Wills)
---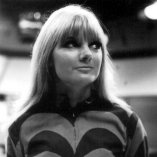 Fair-haired Polly is part of the swinging social life of London in the 1960's. She knows where to find the top night clubs and regularly goes to the Inferno, the hottest night spot in town, which is where she found fellow companion Ben Jackson.
Polly is secretary to Doctor Brett of the Wotan project at the Post Office Tower. Her employer describes her as a cracking typest, but also a cheeky one: Polly is fond of pulling kooky faces behind peoples backs. She continues this clownlike behavior on her travels with the Doctor.
She is easily scared by monsters and will often scream when one surprises her. Once she has plucked up courage, however, she is prepared to argue and ask questions. Polly has an inquiring, sharp mind and a human view of life: she is shocked by killing. Much of the time the people she meets treat her as an attractive coffee-maker, although she does not protest at being assigned such a role.
Polly approves of the wardrobe in the TARDIS which furnishes her with plenty of fashionable clothes appropriate to her debby background. She typically wears above the knee dresses, large earrings and heavy eye make-up and looks quite a dolly bird. Her face is heart-shaped with strong cheekbones.
Ben Jackson, despite his rough nature and background, is a good friend and he and Polly often tease each other.