Harry Sullivan
(Ian Marter)
---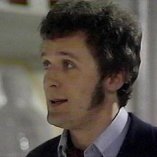 Well-intentioned Harry Sullivan frequently makes life awkward for the Doctor, who has described him as a clumsy, ham-fisted idiot. Harry always tries to do what is best for his friends, but somehow it has a habit of going wrong. Failure, however, does not seem to deter him: his strength is that he will keep trying until he succeeds.
Harry is a lieutenant in the Royal Navy, where he is a medical doctor. He has a frank and hearty manner which translates into a boyish enthusiasm for supposedly glamorous duties such as spying. Confronted with the unknown, all Harry is likely to comment is: " I say!"
Unintentionally chauvinistic, Harry acts the gallant when women are around and is reluctant to let them do anything remotely dangerous. Women in Harry's eyes, are precious, fragile objects. His good-natured and caring approach can, however, make him seem too overprotective: it certainly irritates Sarah Jane who is fed up with being called "old girl" or "old thing".
Blue eyes twinkle out of Harry's squarish face, which is framed by short, curly brown hair. He appears disarmingly friendly. He typically wears navel club attire: a navy blazer, pale blue shirt and naval tie, grey trousers and black shoes. A duffle coat seems to be all he needs to survive the harshness of cold climates.