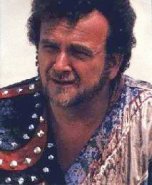 Glitz, a small-time crook with small-time ambitions, is more a rogue who finds himself on the wrong side of the Doctor than a real enemy who is out for the Doctor's blood or brain. Although he will co-operate when circumstances require teamwork, Glitz is always out for himself and constantly looks for opportunities to improve his wealth, health and general safety. If that means shooting or betraying someone, Glitz is happy to do so.
If Glitz cannot negotiate a good deal for something he wants or win it in a game of chance, he will put his mind to stealing it. He has great confidence in his bargaining ability, even when opposed by obstinate or unwilling traders, and is sometimes too confident for his own good. Glitz will consider working for a patron -- even someone like the Master -- if he believes that he will gain in the end. He is not an idiot, though, and seldom trusts his patrons. Even the crew of his spaceship, The Nosferatu, are not worthy of his trust: he sold one particularly mutinous crew.
In effect Glitz is a buccaneer of the space lanes, although he prefers to describe himself as a scholarly philanthropist. He is fond of using long words to confuse his minions and to make him appear more educated than they are. His rough background is betrayed, however, when he comes across objects of great value, to which his usual response is 'Must be worth a lot of grotzits' or 'I can do you a deal on that.' A native of the planet Cilostephus, in the constellation of Andromeda, Glitz has spent some time studying, as he might say, the architecture of rudimentary behavioural reform establishments: in other words, he has been in prison.
The Nosferatu, Glitz's spaceship, is any craft that Glitz happens to acquire on his travels. The Nosferatu 1 was destroyed on Ice World; The Nosferatu 2 was simply the commandeered vessel of Ice World's late ruler, Kane. Glitz's propensity for gambling and adventure means he is likely to lose and gain several spaceships, so his craft may not be immediately recognizable to the Doctor.
Although Glitz is lazy and prefers his minions to do any hard work, he will take over when competence is required. He resents being pushed around by anyone, even if they have the authority and are in the right.
A stocky, well-built man, Glitz wears swashbuckling attire: a loose-fitting, multi-coloured silk top, a studded leather shoulder-guard worn over his right shoulder, baggy black trousers and calf-length brown boots. His curly black hair is greying slightly, and his sideburns are fashioned into narrow bars. Glitz's green eyes are mischievous and calculating.
Although Glitz rarely works alone, he seldom works with the same people twice, usually because he has diddled them out of any promised remuneration. His crew typically consists of criminals like himself but without the brains for organized action. At the end of Trial of a Time Lord, Glitz left Ice World accompanied by the Doctor's companion Mel, who was determined to change his criminal ways. In future encounters with Glitz it may be that Mel is present, probably still trying to reform him.