Pertwee The Man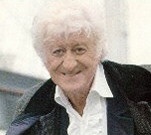 Jon Pertwee the son of Roland Pertwee, a famous actor and playwrite, was born July 9, 1919. Jon's real name was Jean Roland Perthuis de Leillevaux. He went on to star in the radio comedy
The Navy Lark
as well as staring in three of the popular
Carry On...
films. Pertwee also played in stage production of
There's A Girl In My Soup
on Broadway. In 1969 after finding out that Patrick Troughton was leaving
Doctor Who
, Jon had his agent contact the BBC about the role of the Doctor.
Pertwee The Doctor
Jon Pertwee played the Doctor as a man-of-action. The series took a whole new turn during his tenure. The Doctor was Earth-bound, in exile by the Time-Lords. He was now a member of the paramilitary force UNIT as their scientific adviser. The show was being done in color and the budget was expanded. Pertwee brought many of his own ideas to the show, including the flying-saucer-like Whomobile. Pertwee first steped into the role in 1970 and played the Doctor until 1974. Long after Pertwee left the show he still would remember his time as the Doctor fondly. He appeared at many of the Doctor Who Conventions and frequently made public appearances in costume. He returned to role for the twentieth anniversary special
The Five Doctors
in 1983 and for the 1993 thirtieth anniversary special
Dimensions in Time
, which was produced for the BBC's annual
Children in Need
telethon. He also starred as the Doctor in a stage production,
The Ultimate Adventure
, and radio drama,
The Paradise of Death
.
The End Of An Era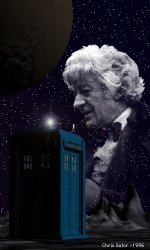 Jon Pertwee, actor, comedian, and entertainer, died in his sleep of an apparent heart attack on May 20th, 1996 while in New York visiting a friend. Words just can not describe the grief I felt when this sad news was conveyed to me. Jon Pertwee was my favorite actor in the role of the Doctor. I can remember many a lazy Saturday afternoon spent watching Doctor Who on our local PBS station, getting to know Pertwee's interpretation of this famous character. Pertwee was a far cry from the Tom Baker version I had first seen. I had read of his exploits as the Doctor in Starlog Magazine. I knew a bit about the fact that he was exiled to Earth and was the scientific advisor for UNIT under Brigadier Lethbridge Stewart. Nothing could prepare me for the wonder and amazement I felt as I watched each of his early episodes or the saddness I felt as I watched his regeneration at the end of
Planet of the Spiders
. I will always have a special place in my heart for the man, who to me,
was
the Doctor
.