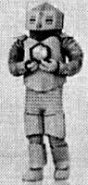 Robots are an incredibly varied type of machine and can have greatly differing abilities. The most dangerous robots, however, are often humanoid in shape: the abilities listed above are such a robot whose duties include servicing machinery or guard duty. Specialized robots will have skills more appropriate to their duties.
Robots have an important role to perform: they remove the need to use men for onerous, repetitive tasks and also help to cut overheads by obviating the need to pay wages. A robot will continue to work tirelessly, provided that no one interferes with its programming.
Many of the Doctor's opponents use robots of some sort, and they are of sufficient menace not to be disregarded. Particularly intelligent robots become aliens menaces in their own right, such as the Movellans.
Here are just a few examples of robots faced by the Doctor.
Quark

Sandminer
Robot

Kettlewell's
Giant Robot

Drathro